Technical Bulletin – Twistlocks
.
Port Engineering Services design, manufacture, load test and supply all ranges of bespoke and standard twistlocks which are all manufactured from our own upset forging dies.
Our blend of modified structural steel materials are forged to produce a "RAW" billet which are stocked in-house. When a client provides an order for twistlocks, we manufacture these, then load test the twistlocks required, providing a service to supply within 7 to 10 days.
Our forged billets are manufactured from our secret blend of materials which is developed to be above the British Standard requirements, which improves quality, strength and durability. Advancing your operations and providing you peace of mind.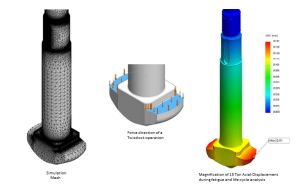 By utilising our in-house fatigue and linear stress analysis programs, we design and test by simulation the life cycle expectancy of the twistlocks designed and determine when and where failure is likely to occur throughout the twistlocks life cycle. However, this simulation cannot be utilised for damage or isolated instances as this would be beyond our control when the twistlocks are in operation.
All of our twistlocks are manufactured with a matching nut individual to each lock. Once the locks and purpose threaded nuts are complete and load tested, each lock and nut will be match stamped to ensure all components remain as pairs to each other throughout the manufacturing and fitting service.
By manufacturing the threads as matched threads, this then reduces the risk of fretting during loading and shock loading scenarios and operation. Fretting can often result in premature failure of your twistlocks.
Each of the nuts are also manufactured from the same materials, so that the risks associated with the use of dissimilar materials is eradicated. This again improves quality and reassurance in using our twistlocks.
Interested to know more about our twistlocks? Get in touch.
About us
Port Engineering Services (PES) have over 50 years of combined experience in inspection and manufacture. Providing our customers with engineering services and solutions worldwide.
Our in-house design facilities provide our clients with cutting edge 3D design and simulation capabilities allowing the "What if" scenarios to be tested at design stage, prior to manufacture. Allowing changes to be conducted prior to early design, ensuring you receive the best product specifically suited to your requirements with reduced lead times.
Our wealth of knowledge in the port and shipping industry often requires our competent inspection engineers to carry out comprehensive inspection services including Non-Destructive Testing (NDT) and using the latest testing techniques. We regularly conduct Thorough examinations which include structural, mechanical and electrical inspections governed under LOLER and PUWER regulations.
Providing competence, knowledge and leading industry skills is paramount to our everyday operations. PES is a UKAS ISO/IEC 17020 Accredited Inspection Body which clearly demonstrates our specialism and competence abilities.
Connect with us?
Connect with us on LinkedIn 
Follow us on Twitter 
Join us on Facebook
Strengths and Capabilities